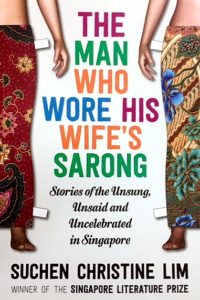 The Man Who Wore His Wife's Sarong
The Lies That Build A Marriage
Other Works By Suchen
Play
The Amah: A Portrait in Black & White
co-authored with Ooi, Ophelia, in Le Blond, Max (ed.), Prize Winning Plays Vol. 1 NUS-SHELL Short Plays, National University of Singapore, 1986.
Awarded Merit Prize, Singapore Short Play Competition, 1986.
Short Stories
The Morning After in UNION: 15 Years of Drunken Boat & 50 Years of Singapore Writing ed. Alvin Pang & Ravi Shankar pub. Ethos & Drunken Boat, Singapore & USA, 2015.
Usha My Third Child in NAC-ITBM Yayasan Anthology (a Malay-English publication by ASEAN countries – Singapore, Malaysia & Indonesia) pub. 2015.
Mei Kwei, I Love You in Singapore Noir, ed. Cheryl Lu-Lien Tan pub Akashic Books New York 2014 (Finalist for The Private Eye Writers of America SHAMUS Award 2015).
Big Wall Newspaper in Moving Worlds: A Journal of Transcultural Writings 10.1 University of Leeds UK, 2010.
Big Wall Newspaper in A Monsoon Feast, stories from Singapore & Kerala, ed. Verena Tay pub. Monsoon Books Singapore, 2012.
Gloria in Sastra Asia, ed. Clara Evi C. Citraningtyas pub. Universitas Pelita Harapan, Indonesia, 2011.
Gloria (An Excerpt) in Tumasik: Contemporary Writing from Singapore, ed. Alvin Pang, pub. Autumn Hill Books, USA, 2009.
Gloria in Asiatic: IIUM Journal of English Language and Literature, pub International Islamic University of Malaysia (IIUM), Dec 2007. Refer to http://asiatic.iiu.edu.my or http://asiatic.iium.edu.my
Christmas at Singapore Casket in The Straits Times, Dec 2003, Singapore.
Ah Nah – An Interpretation in Westerly Vol 48 Nov 2003, Westerly Centre, University of Western Australia.
Retired Rebel in Silverfish New Writing 3: An Anthology of stories from Malaysia, Singapore & Beyond pub. Silverfish, Kuala Lumpur, 2003.
Tragedy of My Third Eye in Mukherjee, Dipita et al. (ed.), The Merlion & Hibiscus, Penguin India, 2002.
Clash of the Clans in World Literature Today Vol. 74 No. 2, University of Oklahoma, Spring 2000.
Two Brothers in Yamada, Teri Shafter (ed.), Virtual Lotus: Modern Fiction of Southeast Asia, University of Michigan, 2000.
Bandong in Leong, Liew Geok (ed.), More Than Half The Sky: Creative Writings by Thirty Singaporean Women, Times Books International Singapore, 1998.
Non-fiction
Stories of the Overseas Chinese pub. SNP International, Singapore, 2005.
Children's Books
Children's Big Books:
Fried Eggs pub. Ethos Books Singapore 2014.
Miss Missy Mynah pub. Ethos Books Singapore 2011.
I Don't Want To Dance pub. Ethos Books Singapore 2011.
My New Monster Truck pub. Ethos Books Singapore 2011.
12 Big Books for Young Children, pub. by SNP Singapore & Ministry of Education, Singapore, 1990:
1. Granny
2. When My Baby Sister Came Home
3. Grandpa
4. Woo Won Ton
5. The Biggest Hongbao in the Whole Wide World
6. Roti Prata
7. Ants in a Hurry
8. Julius Fatball
9. Nanny Nanny Poo Poo
10. Cheep Cheep Cheep
11. The Hatching
12. Mano Made A Promise